BorgWarner has been making auto parts for nearly 100 years, and with their recent shift towards developing motors for electric vehicles, they're setting themselves up to be around for another century. In addition to turbochargers, they also make an electric motor with the same transmission output as the classic Chevy small-block V8 (to make it easier to electrify a classic car), AWD systems that can add a second set of driven wheels to vehicles that were originally designed to be 2WD, and any number of less exciting but still important replacement parts. Their recent purchase of Delphi expands their catalog even more, as well as giving them more production capacity to keep up with increased demand.
BorgWarner Turbo Systems is comprised of two smaller companies that BorgWarner purchased in the 1990's, Schwitzer and KKK. Despite the German name, Schwitzer was actually founded in Indiana in 1918 by Louis Schwitzer, the first winner of any race held at the Indianapolis Motor Speedway, in 1909. KKK, short for Kühnle, Kopp & Kausch, began in 1952 as a satellite operation of Schwitzer in Frankenthal, Germany. Today, KKK is also referred to as KK&K, KK3, 3K or Triple-K. Schwitzer turbocharger models manufactured today by BorgWarner generally have a model family beginning in "S", such as S1, S100, S200, S2A, S300. KKK turbocharger models manufactured today by BorgWarner generally have a model family beginning in "K", such as the K03, K04, K26, K27, K31.
BorgWarner also has two performance turbocharger brands, AirWerks and EFR. EFR, short for "Engineered For Racing", makes turbochargers for custom racing applications, which see higher RPM than even the burliest of heavy duty diesel turbos. At the time of this writing, every car in the IndyCar racing series is using a BorgWarner EFR turbo. AirWerks turbochargers, also designed for the motorsports market, include a line of drop-in performance upgrade turbos for vehicles that were turbocharged from the factory. These drop-in replacements bolt in like OEM, and while you'd notice an improvement on an otherwise stock vehicle, especially if your original turbo is worn out, you'll see even better improvements with breathing mods, better fuel supply, and a custom tune to make the whole package work together.
In addition to offering their Schwitzer, EFR, AirWerks and Triple-K brands, BorgWarner develops and supplies turbochargers to automakers like Volkswagen, Audi, Porsche, Volvo, Ford and General Motors, industrial engine manufacturers like Caterpillar, Mercedes-Benz, Deutz, Volvo Penta and John Deere, and 3 rd party distributors like us. Each of those manufacturers assigns their own part number to the turbocharger, in addition to BorgWarner's own internal designation. This means that if the same turbo is used in more than one application, there could be a dozen or more part numbers for a functionally identical item. While this can definitely muddy your search results, checking the identification tag, or turbo nameplate on your original turbocharger can give you the information you need to find an OEM quality replacement turbo without having to pay full price.
Genuine BorgWarner turbochargers will typically have an ID tag, or nameplate attached. The nameplate is most commonly riveted to the compressor housing or "cold side", but sometimes can be found on the center section of the turbocharger. The top of the tag may have a brand logo of whoever sold the turbo originally; BorgWarner, Schwitzer, Triple-K, or even the automaker that installed your turbo at the factory. If available, the country of manufacture may also be displayed. Newer turbos might even have a QR code that you can scan to pull up technical details. Below that will be 2, 3 or 4 lines of data that can be used to identify your turbo.
The top line is the Original Equipment Manufacturer, or OEM part number assigned by the manufacturer of your vehicle or engine, such as Volkswagen or Caterpillar. This is the number you could take to your dealership parts department to place an order or get a quote from them, but it will also be recognized by professional distributors like us. If you have this number, Turbochargers Direct can almost always match your turbo exactly. BorgWarner may also refer to this as the "Customer Number" or "Cust-No", and this part of the tag may also say "Size" on it.
One exception to the top line of the tag displaying the OEM number would be if your turbo is a BorgWarner aftermarket replacement. This means that the turbo was purchased in the aftermarket, instead of through an automobile or engine manufacturer's dealer network. Technically speaking, aftermarket distributors are selling a BorgWarner brand turbo, not an Audi, Volkswagen, Porsche or Mercedes-Benz brand turbo. Genuine BorgWarner turbochargers sold in the aftermarket typically will not have the automobile or engine manufacturer's part number on it - even though apart from the ID tag, it is the exact same item, built on the exact same line. Here is an example of a common and recent BorgWarner turbocharger nameplate (for an aftermarket replacement turbo) with 3 rows of information: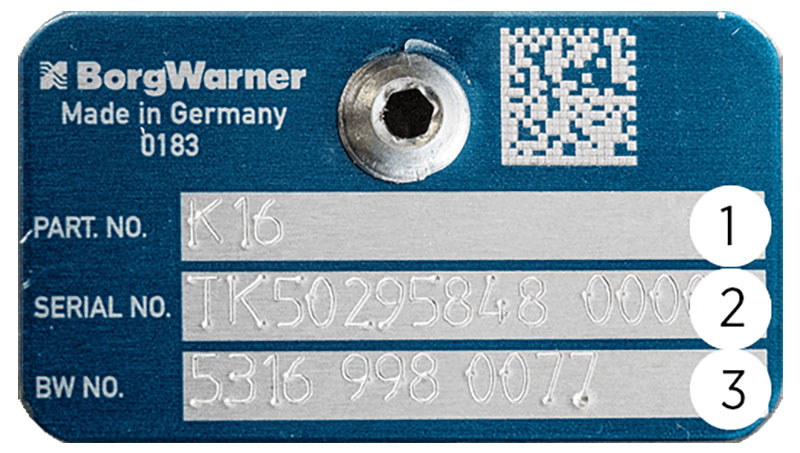 Turbochargers sold in the aftermarket may have a 6-digit "service part number" beginning with either a 1 or a 4. This is common on industrial engine, and heavy equipment applications. If the service part number begins in 1, it is a brand-new part. If it begins with 4, it means it was remanufactured by BorgWarner themselves, in a BorgWarner facility, using OEM BorgWarner parts. The remaining 5 digits of the part number are specific to the turbocharger model. In some cases, you may see a 6-digit part number that begins with a 1, and then has an "R" at the end. That R also signifies that the part is a factory remanufactured turbo. Here is an example of an older, red BorgWarner ID tag, riveted to the center section of the turbo – this is from a Caterpillar excavator turbocharger: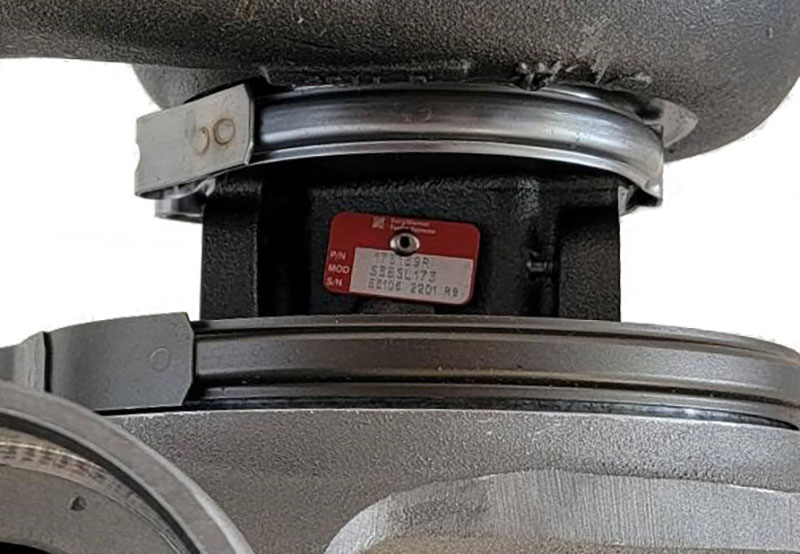 On turbocharger ID tags with 3 lines of data, the middle line will have usually be the turbocharger's serial number. (On some older Schwitzer nameplates, the serial number will be on the 3 rd row, and the model number will be on the second line, like on the red tag shown above). The serial number is used internally by BorgWarner, to track the date and location each individual unit was manufactured (or remanufactured). BorgWarner may ask for that number if you request a warranty claim, but it's not useful for identifying a suitable replacement turbocharger.
The third line of your ID tag is typically BorgWarner's internal part number for the turbocharger. (Again, on some older, nameplates, the serial number will be on the 3 rd line, and the model number will be on the second line). This model number often begins with "53" or "54" and can be useful if multiple applications use the same turbocharger. As an example, if Volkswagen and Audi both happen to use the same turbo for completely different applications, then the part number on the 3 rd line could be matched up with multiple different 1st lines. Here is an example of a recent blue BorgWarner nameplate, mounted on a VW / Audi turbocharger, with the BorgWarner part number on the third row: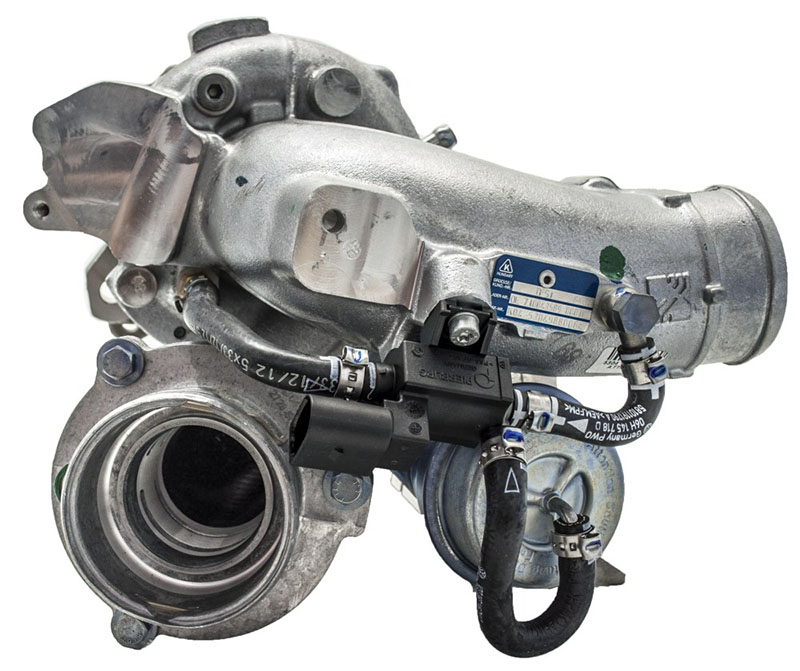 Most of the turbos coming out of a BorgWarner factory today will use the 3 rows of data in the order shown above, but not all of them. Here is an example of a blue BorgWarner nameplate, mounted on a VW / Audi turbocharger, with only 2 rows of data: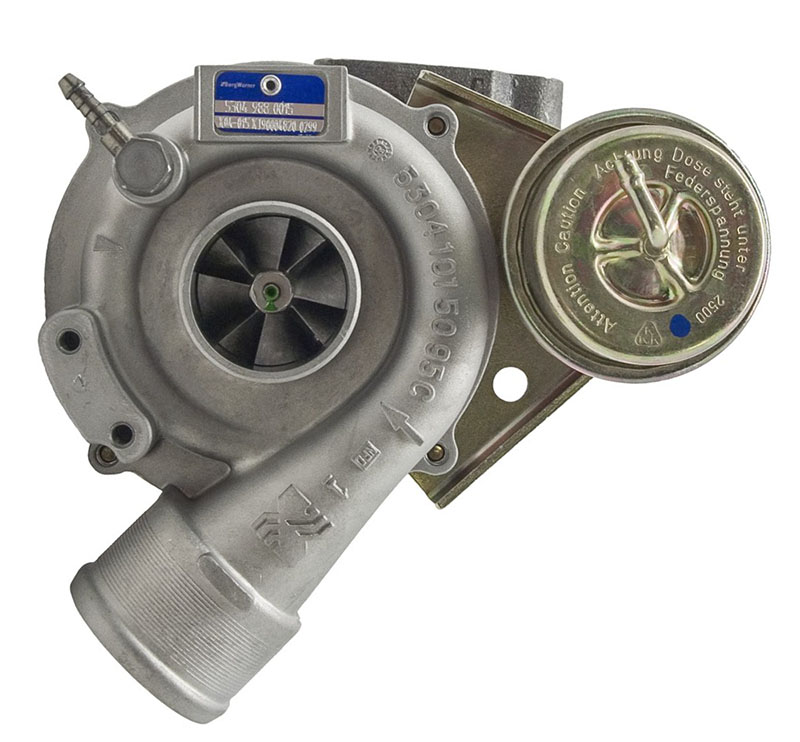 And here is an example of a BorgWarner KKK nameplate, with 4 rows of data: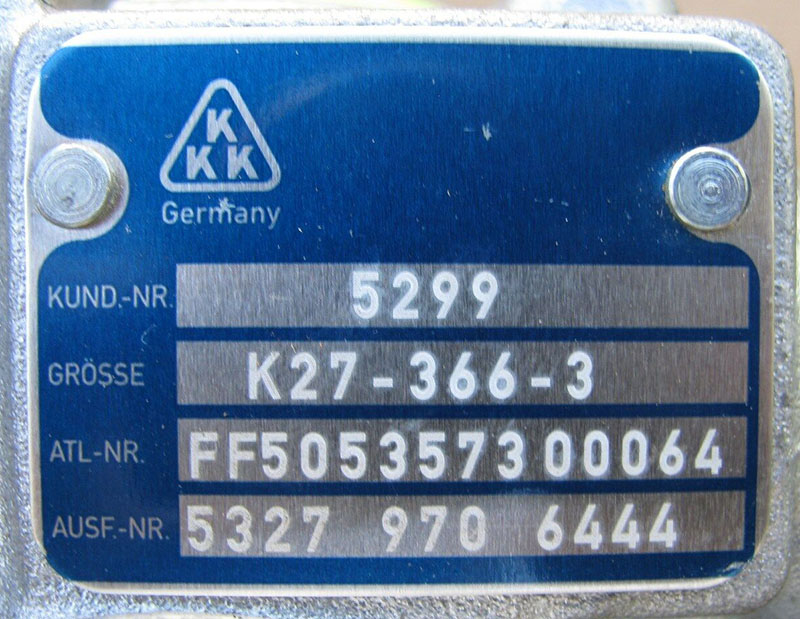 If you have a BorgWarner turbo that you need to replace, the most accurate way to ensure you get the correct replacement part would be to look up the OEM part number, or the BorgWarner part number from the ID tag on your turbo. If your tag is damaged or missing, we may be able to ID your turbo by application or engine data. You may also be able to find the OEM part number for your turbo in your vehicle's factory service manual, or the online equivalent used by many independent repair shops.
One more thing to note: BorgWarner is a massive industrial conglomerate, with both engineering and production facilities all over the world – 96 locations in 24 countries currently. This includes factories in Japan, Italy, Germany, both Carolinas, China, Illinois, France, Poland, the UK, Brazil, South Korea, Mexico, Turkey, India, Indiana, Romania, New York, Sweden, Hungary, Thailand, Portugal, and Michigan. Despite being an American company with a German-sounding name, this is a worldwide company. Seeing a "Made in China" stamp on a BorgWarner turbo does not mean it is a counterfeit unit, or of any lesser quality. BorgWarner has manufactured millions of turbochargers in their Ningbo, China factory.
To shop our selection of BorgWarner brand turbochargers, just click here: BorgWarner Turbos For Sale. For friendly, expert assistance in locating the correct BorgWarner, Schwitzer or Triple-K turbo, email us or call us toll-free now!