Detroit Diesel manufactured more than a million of their Series 60 engines between 1987 and 2011, ranging from 11.1L and 330hp to 14.0L and 575hp. Having this much variety makes it easy to swap parts around to make improvements, but can also complicate things when you need to shop for replacement parts. One of the most popular improvements on the Series 60 is a turbo upgrade most commonly referred to as the 171702.
171702 is part of BorgWarner's AirWerks line of drop-in performance upgrade turbochargers, designed to fit like OEM and making it easier to upgrade your turbo. Other examples of upgrade turbos in the AirWerks line include the John Cooper Works upgrade package on 1.6L Mini Coopers or the bigger K26 turbos that turned an early 2000's Audi S4 into the RS4. Much like those, the 171702 turbo is a stock replacement for Series 60 engines originally rated at 500hp or 550hp, but also fits as an upgrade on models that left the factory with a lower power rating. With AirWerks turbos (as well as Garrett's similar PowerMax line), you might notice a slight improvement on an otherwise unmodified truck, but the bigger gains are unlocked if you have supporting mods to the fuel system, air intake (including the charge air cooler) and exhaust. In fact, while the 171702 turbo is a stock replacement for 500hp and 550hp engines, Borg Warner claims it is capable of up to 1050hp.
The BW 171702 is an S400SX4 or S400S062 model turbo, and BorgWarner publishes features and technical specifications for the S400SX4 turbochargers.
Here is the compressor map applicable to the 171702: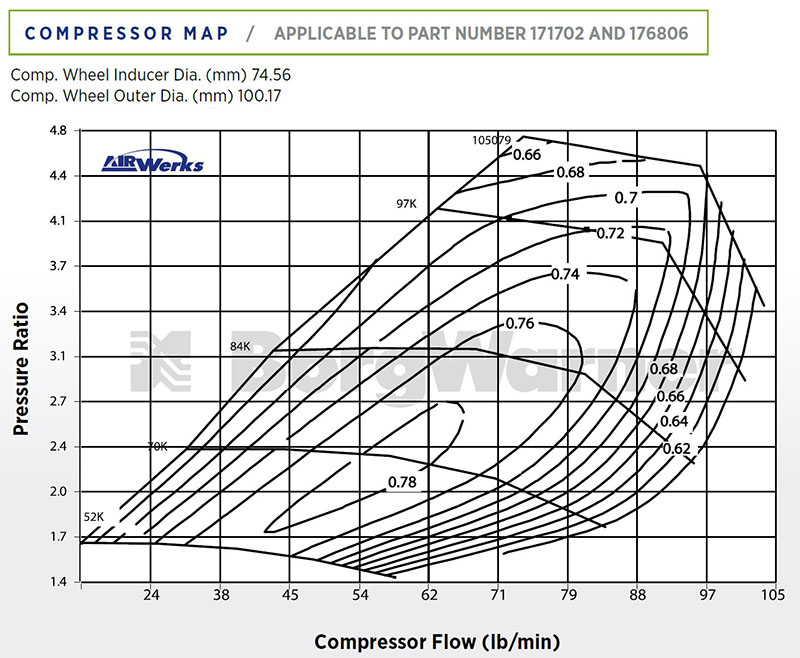 Here is a picture of the compressor side of the BorgWarner 171702: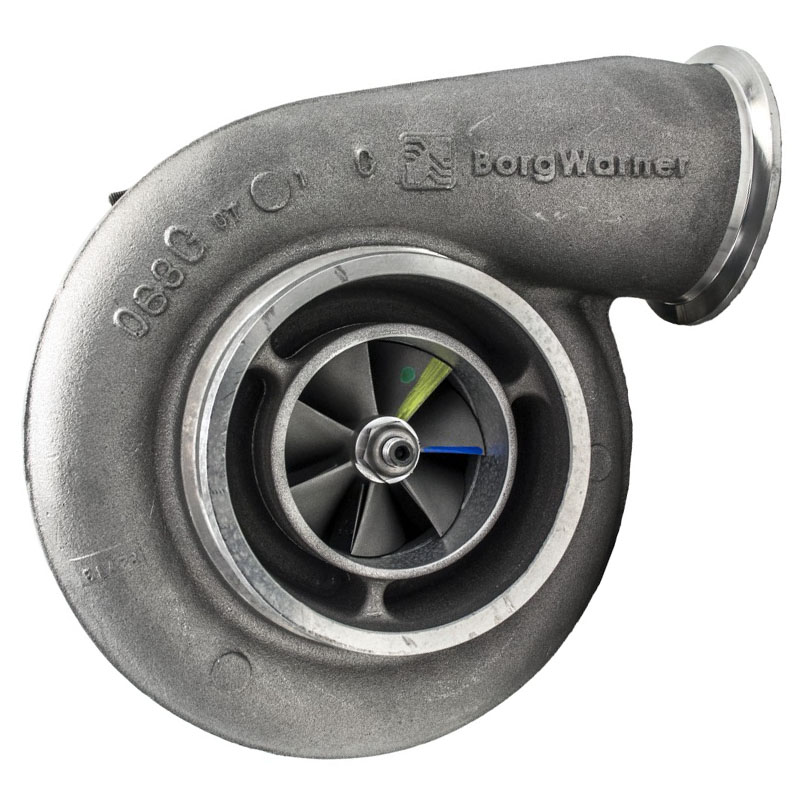 While we've been talking specifically about the BorgWarner 171702, its worth noting that the original equipment manufacturer for the turbo on 500/550hp Series 60 engines is actually Garrett. That means that if you went to a Detroit Diesel parts counter, or the dealership parts department, and purchased a brand new OEM replacement turbo this is what you'd most likely get:
Brand New, Genuine OEM Garrett
Garrett part number 466713-5005S
You can also opt for an original Garrett 466713-5005S that has been professionally remanufactured by Garrett themselves, using OEM parts and tools, and arriving at your door in a Garrett box. You might also be able to get this from a dealership, especially if there is a backorder on the new part. We would only advise using this as a stock replacement, because it requires a core deposit and the turbo you return would have to match the turbo you purchase:
Genuine Garrett OEM Reman
Garrett part number 466713-9005S
A popular alternative is a brand new aftermarket turbocharger that's designed to fit and perform identically to Garrett part number 466713-5005S, and with the same feature-set as the original Garrett unit. There is no core deposit or core return required. Our new aftermarket unit is backed by a two year, unlimited mileage warranty, double what you'd get from Garrett:
Turbochargers Direct New (Aftermarket)
The two Garrett turbochargers above, and the Turbochargers Direct New aftermarket unit above, are all built on the original design specifications for the OEM Detroit Diesel turbo. They are not "upgrade" turbos - rather, they are 100% stock replacement units. In order to reap the benefits of the Borg Warner 171702 design improvements, you will need to look at these next two units:
The BorgWarner 171702 is a replacement for the original Garrett turbocharger, with meaningful improvements. These improvements include: twin hydrodynamic journal bearings, extended tip technology compressor wheel, twin scroll turbine housing, adjustable compressor and turbine housing orientation, and compressor cover recirculation grooves. The biggest performance-related improvement is a larger compressor wheel inducer, which essentially means the wheel has larger fins to flow more air and make more power, but the same outside diameter so your original intake piping will still connect to it without any issues. The exhaust side has a 96mm twin-scroll turbine wheel to reduce turbo lag. They've also replaced the bolt-on turbine housing with one attached by V-Bands. With this upgrade, the compressor cover and turbine housing are infinitely adjustable, or indexable, making this unit ideal for custom applications. You can set the exhaust flange, charge pipe and oil line connectors to exactly where you need them. Here is a link to where you can buy a BorgWarner 171702 turbocharger. Please note that as of the time of writing this article, the BorgWarner 171702 has been on national backorder for months. Just like every other distributor, we've had a very hard time helping our customers with this part number in 2022. The current forecast is for supply to start coming back on-line in Q3 and Q4 of 2022.
Brand New BorgWarner 171702
If you are in the market for a BorgWarner 171702 turbocharger, and you would like to save some money, get a stronger warranty, and not wait for national back-orders to get filled, then you should definitely consider the Factory Turbochargers brand replacement for the BW 171702 turbo. This turbo is an exact replacement for the 171702, including the band-clamp housings and upgraded compressor wheel. It's guaranteed to fit and perform just like the 171702 turbo, it includes the mounting gaskets, and it is backed by a three year, unlimited mileage warranty – triple what you'd get from BorgWarner or Garrett. We offer bulk discounts for fleets and industry professionals, contact us for details.
Factory Turbochargers 171702 Replacement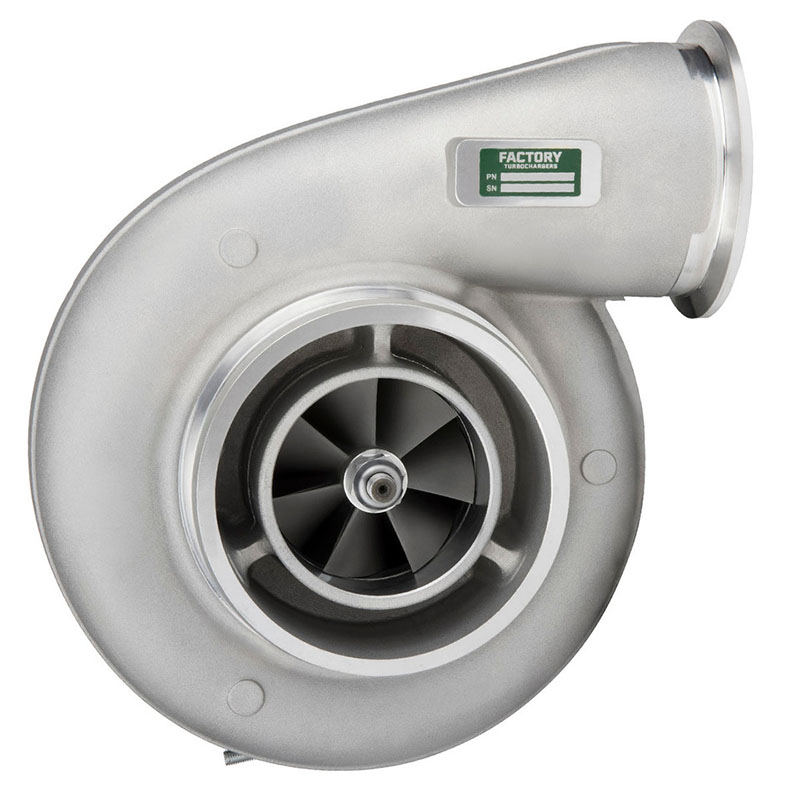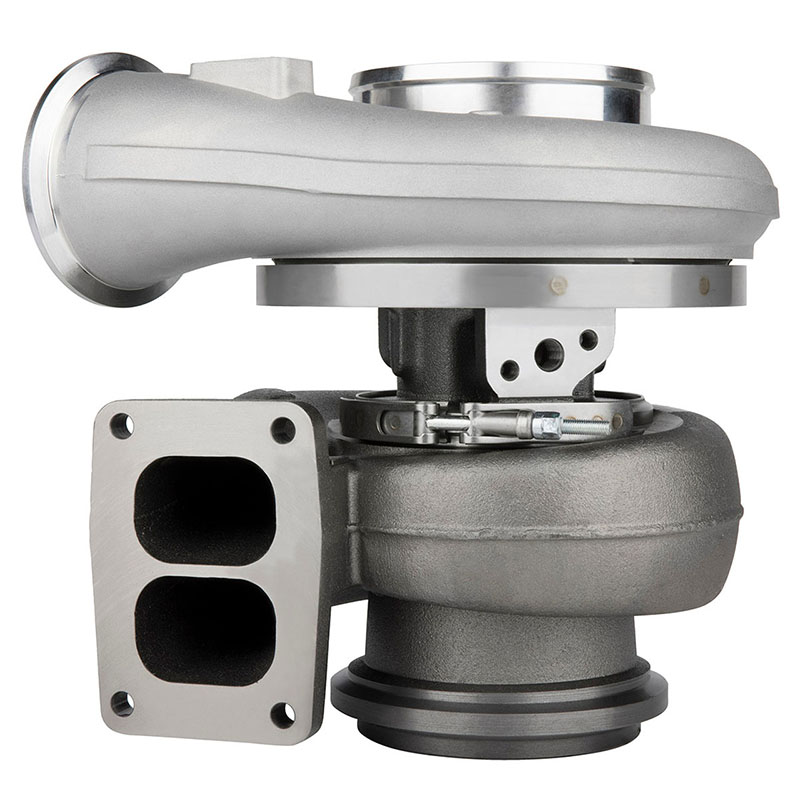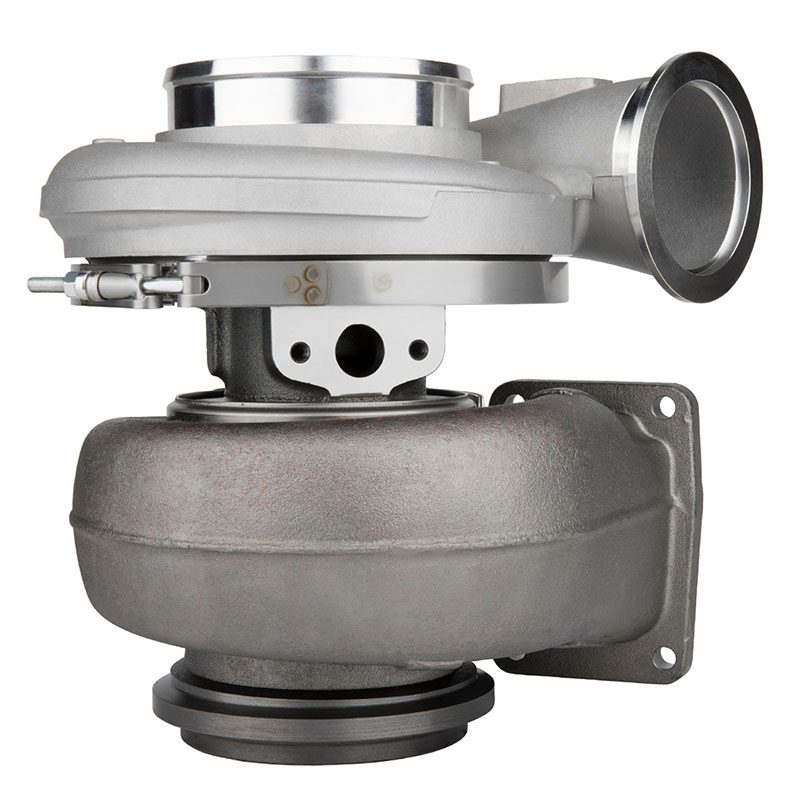 As you can see, we have quite a few replacement options, which can be a little daunting. The important thing to remember is that they all share the same connections and mounting points, including the 4.44" x 2.75" T6 universal exhaust flange – you can use a 171702 as a stock replacement for Garrett 466713-9005S, even if you don't need the performance improvements.
Generally speaking, we recommend the Factory Turbochargers brand unit most of the time. If you're just looking for a stock replacement on a truck that's rated at 500 or 550hp, this can do that job for you at a great price with an unbeatable warranty, and the compressor wheel improvements are just a bonus. If you're looking for a performance upgrade, the infinitely adjustable housings help it fit custom applications like yours, and there is no core exchange required.
If you're looking to spice up your truck a little bit, we strongly advise checking with a diesel performance shop in your area before ordering anything – they would most likely be familiar with the BorgWarner 171702, can help you determine if it's a good fit for you, and what else may be required at the time of the swap.
If you're looking for a stock replacement turbo, and you don't know exactly which one to order, the best thing you can do is get a part number off your original turbocharger and search it on our website. The part number can usually be found on a tag attached to the intake side of your turbo. You can call us toll-free for help with this.
For questions about these options or any other turbocharger, contact us and we'll help you find the correct replacement!