Full-size pickups have topped US sales charts for more than 50 years; usually Ford, but there are some years where Chevy and GMC combine to put GM on top. They're uniquely suited to our wide-open roads, as well as legislation that relaxes safety and fuel economy standards for "commercial vehicles", regardless of how they are used. They're also wildly profitable for the big 3 – you can take a $40,000 F-150 XL, add some electronics and leather and 20" alloy wheels, and now you have a $70,000 F-150 Platinum. It makes sense that other manufacturers would want a piece of that pie.
Before the newest challengers from startups like Rivian, Workhorse and (maybe one day) Tesla, Toyota and Nissan tried to get into the market as well. Both manufacturers have extensive experience making famously durable compact pickups, and that same engineering scaled up seems like a slam-dunk. Toyota eased into it, starting with a dually model of their minitruck in the 1980's and early 1990's that could carry a full ton over the rear axle, then the T100 in the 1990's that didn't offer a V8, then the first generation Tundra that had it all on paper, but was still about 7/8's scale compared to the domestic offerings. It wasn't until the 2nd generation Tundra in 2007 that Toyota had a truck that could compare on spec.
Nissan skipped those baby steps and released the Titan for the 2004 model year. It was sized to compete with the Detroit full-size trucks, and was exclusively available with a 5.6L V8 that made an impressive-for-2004 317 horsepower. It did find some success with people who wanted a true full-size truck with Japanese reliability, but as they often do, they left it (as well as the Armada full-size SUV based on the same platform) alone for a full decade while its competitors kept innovating and improving, making it look more and more outdated.
A new Nissan Titan finally arrived for the 2016 model year, appearing far more prepared for serious truck work. A new single-cab long bed model filled a gap that the big 3 were leaving behind, but more interesting was the Titan XD, positioned somewhere between the 1500 "Half-ton" and 2500 "3/4-ton" trucks. The XD had a heavier-duty frame shared with Nissan's commercial vans, but the big news was an optional 5.0L diesel V8 from famed engine manufacturer Cummins, best known for the million-mile powertrains they put in Ram pickups.
The Titan XD diesel uses the Cummins ISV 5.0L V8, rated at 310hp and 555 lb-ft of torque. A compacted graphite iron (CGI) cylinder block and forged steel crankshaft provide the bottom-end durability required for the compression that diesel engines operate under, but it also had advancements like dual overhead cams to keep the engine quiet and smooth, and aluminum cylinder heads with composite valve covers reduce weight (though the truck still weighs over 7000 lbs). The truck also came with exhaust gas recirculation (EGR), selective catalyst reduction (SCR, operates similar to a catalytic converter on a gas engine) and a diesel particulate filter (DPF) to keep emissions in check.
The Titan XD is the biggest consumer of the Cummins ISV. It can also be found in some mid-size buses and RVs, but it has not taken much market share from the ubiquitous Cummins ISB 6.7L inline six, best known for being in the Dodge Ram Cummins. Cummins also sells the ISV as a smog-legal (depending on local laws) engine swap kit targeted for older pickup trucks.
This relative obscurity means it might be hard to find someone with experience on this platform, especially since Nissan discontinued this engine after the 2019 model year; if any Nissan dealers still have diesel technicians on staff, I'm not sure they'll be there for much longer. There is a small enthusiast community, though having checked around the forums, they mostly seem to unite around how the truck isn't as reliable as they had expected from Cummins or Nissan. Car and Driver magazine had constant issues with a truck they tested for 40,000 miles, and like most modern diesels, emissions components seem to be one of the biggest headaches. Owners also report transmission issues that can sometimes (but not always) be fixed with a TCM reprogramming, and a Bosch CP4.2 diesel injection pump that's very vulnerable to damage from contaminated fuel.
2016 Nissan Titan Turbo Issues
There are two turbocharger issues specifically related to early-production 2016 Titan models, and both of them focus on the high-pressure half of the sequential turbocharger assembly. The first is a recall (TSB NTB16-097) that affected about 12,000 2016 models to verify that the turbocharger was receiving enough oil. If you bring your truck in for this recall, they will scan the ECU to see if diagnostic trouble code (DTC) P0524 for low oil pressure was ever activated. If so, the entire turbocharger assembly would be replaced, no questions asked. If the code was not present, the technician would then check for excessive shaft play in the turbo, and if the compressor wheel made contact with the housing, the turbocharger would be replaced. If there was no signs of damage to the turbocharger, the technician would verify oil pressure and reinstall the original turbo. If you have a 2016 Nissan Titan XD Cummins, enter your VIN on NHTSA's website or contact a Nissan dealer to see if your truck is eligible – if you are not the original owner of your truck, this will also verify if the recall has been addressed yet.
The second issue that specifically pertains to the 2016 model is the electronic wastegate actuator, also attached to the high pressure turbo. According to Nissan themselves, the soldering inside the actuator can fail or the motion of the actuator can be obstructed by carbon build-up, either of which would trigger a check engine light and DTC P00AF or P0299. Nissan has extended the warranty for the turbo actuator to 10 years or 150,000 miles, though it appears as though they only cover the actuator, not the turbo itself.
As far as Nissan is concerned, these issues only affect 2016 models, though we have seen turbocharger failure on all model years of Titan XD.
Nissan Titan XD Replacement Turbo
The Cummins ISV in the Titan XD uses a Holset M2 sequential or "two-stage" turbocharger, a first for Holset, that includes a smaller turbo for low-rpm response and a larger one for high-RPM power. Both of these turbos feed compressed air directly into the intake manifold, similar to the twin-turbo Toyota Supra and Mazda RX-7 from the 1990's. This is opposed to the compound turbochargers used on the Ford 6.4L PowerStroke and the Navistar MaxxForce, where the smaller turbo feeds into the larger one to spool that one up quicker.
The Titan XD is the only ISV application that uses the sequential turbocharger though, so parts availability is a little tough. Cummins and Holset still claim that the Nissan dealer is the only "authorized" source, but we have heard from customers that the dealers cannot provide a reliable ETA of when they will have replacements available – and we've even shipped a few to Nissan dealers as well.
Right now our only replacement option is a remanufactured turbocharger assembly, and we don't expect that to change anytime soon. Nissan, Cummins and Holset seem to have already forgotten about this truck, and there aren't really enough of them around to justify developing an aftermarket replacement. Our remanufactured sequential turbo includes both the high and low pressure halves, assembled as a single unit, though you would reuse the electronics from your original turbo. The journal bearing and compressor & turbine wheels are machined or replaced as needed, wear items like the center section piston rings are replaced and carbon deposits are removed. Every individual rotating piece is balanced on a vibration sorting rig (VSR balancer), then the process is repeated on then the entire CHRAs (center housing rotating assembly, also known as the cartridge, and this compound turbo has two of them) to ensure there are no vibrations at high RPM that can lead to accelerated bearing wear. We do charge a core deposit and require you return your original turbocharger, so we can continue to offer this replacement – we'll provide a prepaid return shipping label for it if you are in the continental US, and the sooner you return it, the sooner we can get it fixed and out to another Titan owner to keep these trucks on the road.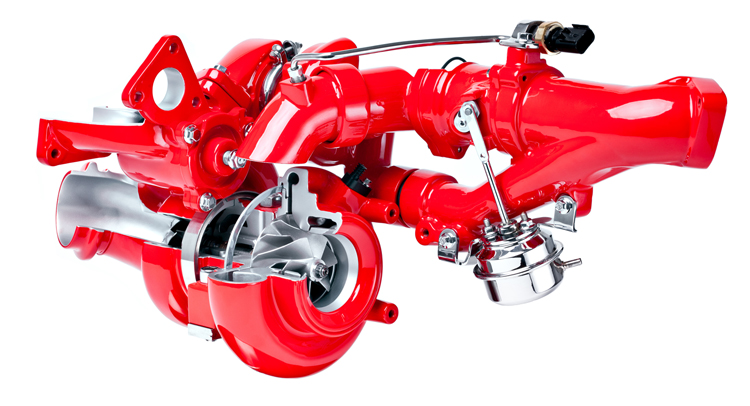 The Nissan Titan Cummins is certainly an unique vehicle, and it will join other light-duty diesel pickups like the Ram EcoDiesel and Ford F-150 3.0L Power Stroke (both of which have also been discontinued) as interesting bits of trivia for Jalopnik articles in 2050. GM trucks (even the Cadillac Escalade!) still offer the Duramax 3.0L inline six, but the F-150 and Toyota Tundra have instead turned to hybrid powertrains based on their twin-turbo gas V6s, not to mention all the fully electric offerings that are either in the pipeline or already available. Ford and General Motors have also recently introduced big-block gas V8s for their heavy-duty trucks that match the performance of 10 year old diesel trucks with a lower purchase price and lower long-term ownership costs than the current generation Duramax and PowerStroke pickups.
For more information about the turbocharger for the Titan XD or anything else that left the factory with a turbo, contact us for knowledgeable assistance and replacement options with an unbeatable warranty, including new and remanufactured options from brands you know like Holset, Garrett, BorgWarner and more.