General Motors has been producing the 6.6L Duramax diesel V8 for over 20 years, and more than 2 million have been produced so far. Part of the longevity has to do with how advanced the engine was when it was new; it used Bosch common-rail injection back when the Ram Cummins still had the leaky VP44 injection pump and Ford's 7.3L Power Stroke made less horsepower than today's 4-cylinder Ranger. Despite being older than the Cummins ISB in the Dodge Ram and Ford's 6.7L Power Stroke diesel, today's Duramax is still competitive thanks to plenty of revisions made along the way. There have now been 6 generations of the Duramax diesel, each with it's own 3-digit RPO code to identify it and make it easier to find replacement parts.
An RPO code is GM's internal designation for an option or option package. Things like heated seats or a bigger dash screen have their own option code, as well as more exciting things like an off-road package (RPO code Z71), a 427ci V8 (RPO code L88 or LS7, depending on the year) or a package that makes a 1 st generation Camaro legal for SCCA's Trans-Am racing series (RPO code Z28). Every General Motors vehicle has an option list printed inside the glovebox with a list of these 3-digit codes.
There are a few ways to find which Duramax your truck or van has. For the regular pickup trucks and vans, you can just search your year, make and model on our website to get links to the different replacement turbocharger options we have available. Some years, however, may have multiple engine options available. In addition, if you have a Chevy Kodiak or GMC TopKick, cataloging information is not as readily available, so you would need to check that RPO list in your glovebox.
One thing that works on all Duramax-equipped vehicles – pickups, vans and medium-duty trucks – would be checking your VIN. The 8 th digit of your VIN is used to identify the engine that vehicle had from the factory, and it's pretty easy to match that engine VIN digit up to a Duramax RPO code:
The first-generation Duramax (RPO LB7) uses an IHI turbocharger that is long since out of production, so the only replacement options available today are aftermarket or remanufactured. If you have an LB7 truck, you'll also need to verify if your truck left the factory with CARB (CA-legal or 50-state) or EPA (Federal or 49-state) emissions equipment. It's not as simple as whether or not you're in California, since many other states require CARB-compliant emissions on new vehicles. You'd need to check the emissions information label under your hood to confirm which emissions package your truck has or look up any part numbers on your original turbo if that label isn't there anymore.
We have the CA emissions LB7 turbo available here: New Turbochargers Direct Replacement RHC6 Turbo For Chevy Silverado GMC Sierra GM 6.6L LB7 TUR-102912-TDN
We have the 49-state LB7 turbo available here: Turbochargers Direct Remanufactured OEM IHI RHC6 Turbo For 2002 2003 2004 GM 6.6L LB7 With California Emissions TUR-103450-TDR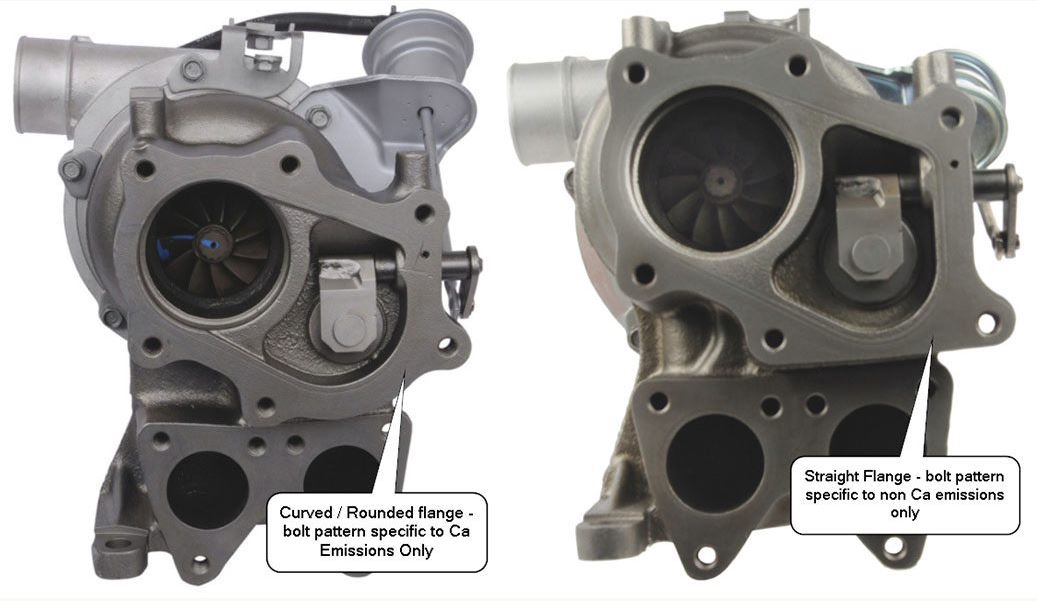 The LLY engine was introduced partway through the 2004 model year, and it was the first to use a Garrett variable-geometry turbocharger (VGT). A variable-geometry turbo has vanes inside the exhaust housing that close up at low RPMs to simulate a smaller turbo and reduce spool time (also known as turbo lag), then open up at higher RPM to flow more air and make more power. Garrett was the OEM supplier of the Duramax turbo until the L5P and L5D engines were introduced for the 2017 model year, both of which using a BorgWarner turbo.
All of the Garrett variable-geometry Duramax turbos will have a Vane Position Sensor that links the ECU to the mechanical motion of the turbo. We have replacement turbochargers available with or without the Vane Position Sensor. We often hear from customers that they replaced the vane position sensor before the turbo as part of their diagnostic process. If you have not replaced the vane position sensor, it doesn't hurt to install a new one with your new turbo to eliminate one more failure point and ensure better long-term reliability, but keep in mind that this will require a "relearn" procedure that isn't very DIY friendly - it requires the GM Tech II scan tool, which any dealership and many independent shops will have.
Garrett still manufactures (and remanufactures) OEM turbochargers for the LMM, LML and LGH engines. If you have a Duramax LBZ, the only OEM replacement is the LMM turbo (Garrett part number 848212-5001S for a new part or 848212-9001S for a factory reman), which will bolt right up and plug in just like your original turbocharger. The LMM turbo also fits LLY trucks as well, but requires a wiring harness adapter (Garrett part number 771864-0001) for the vane position sensor. If you want a "stock" turbo for a LLY or LBZ, our remanufactured replacements are available with or without the vane position sensor, no adapter needed.
We have an OEM Garrett LMM turbo (that also fits LLY and LBZ) available here: brand new or remanufactured by Garrett themselves
We have the adapter required to install the LMM turbo on an LLY available here: OEM Garrett 771864-0001 Vane Position Sensor Adapter For Chevy & GMC 6.6L Duramax Diesel LLY
Contact us for more knowledgeable assistance in getting the correct replacement turbocharger for any Duramax, PowerStroke, Cummins or anything else with a turbo!