Chevy released the Cruze for the 2011 model year as a replacement for the Cobalt, which was itself a replacement for the Cavalier. Base models came with a standard 1.8L 4-cylinder, but there was also a turbocharged option as well. But instead of a replacement for the acclaimed Cobalt SS, going head to head with the Subaru WRX and MazdaSpeed3, the turbocharged option got you a horsepower increase of… zero. To be fair, you did get an extra 23 lb-ft of torque and a better MPG fuel economy rating.
Chevy Cruze Turbocharger Problems
The Cruze, along with the Chevy Trax, Sonic and Buick Encore that also used the EcoTec 1.4T, were early innovators in the now-common practice of a smaller turbocharged engine replacing a larger naturally-aspirated one in the interest of fuel consumption rather than performance. Until this time, turbocharged engines were usually found in enthusiast vehicles, and not to generalize too much, but one could assume that those might be better maintained than your average Uber or rental car. Mainstream turbocharged vehicles were hitting the market just as manufacturers were extending their recommended oil change intervals from the 3,000 miles up to as much as 10,000 miles. A reliable supply of clean oil is the best thing you can do to increase the lifespan of a turbocharger, so extended oil change intervals contribute to Chevy Cruze turbocharger issues, including early turbocharger failure. Oil contamination and oil starvation are among the most common causes of turbocharger failure.
Bearing damage due to oiling issues is not unique to the Chevy Cruze turbocharger. A more common failure point, which also affects the Chevy Trax, Sonic and Buick Encore that also use the 1.4T (engine code LUV) is what's known as an underboost code. This is caused by either the wastegate or bypass valve not closing all the way. If the wastegate cannot close all the way, exhaust gases that should be spinning the turbine wheel on the turbo's exhaust side can escape through the wastegate. If the bypass valve (may also be known as a diverter valve, or the blow-off valve if it's an aftermarket part that makes a PSHH sound when you let off the throttle) cannot close, then compressed air (usually referred to as boost) from the intake side of the turbo can leak from there, meaning lower intake air pressure (less boost) once it reaches the engine. Either one of these would cause a loss of power and a check engine light with code P0299.
There are two different turbos for the 1.4T EcoTec, but both of them have the wastegate and diverter/bypass valve built into the turbocharger itself, meaning the only way to fix this issue is a complete turbocharger replacement.
The Best Chevy Cruze Turbocharger
For the most part, we recommend OEM replacement turbochargers for these applications, but that doesn't mean you have to pay dealer markup! General Motors does not manufacture their own turbochargers; they buy them from specialist manufacturers like Garrett or Mitsubishi Heavy Industries (MHI). We can buy turbos from those companies as well, meaning we can supply the exact same part you get from the dealer, just in a different box and at a much more competitive price. This is also helpful if you are having a trusted mechanic install the turbo for you – some mechanics may have hesitation about installing customer-supplied parts, but that may be alleviated if it's a name brand they recognize and have experience with.
For some more popular applications, we also offer replacements from Factory Turbochargers, a quality aftermarket brand we have plenty of experience with. A Factory Turbochargers replacement turbo will fit and perform identically to the OEM part, usually includes all the gaskets required for installation, and is backed by a THREE YEAR, unlimited mileage warranty – triple what the dealership or most other brands offer!
We also offer our own Turbochargers Direct branded replacement turbos, both new and remanufactured. These can provide a better value than OEM, and come with a two year, unlimited mileage warranty. These also come from suppliers we trust, and are a great option when the OEM part is unavailable, discontinued or has an unaddressed design flaw (like the turbo we offer for the Ford 6.7L PowerStroke diesel that replaces ceramic bearings on the exhaust side with stainless steel for better heat resistance).
There are 4 unique turbochargers equipped on various Cruze models, depending on the model year and engine option
Engine Code LUV – 1.4L Gas
Garrett MGT1146GLM
Fits 2011-2015 Cruze, 2016 Cruze Limited, 2012-2020 Sonic, 2013-2022 Trax, 2013-2015 Buick Encore, plus 2016-2019 Encore w/ Engine Code LUV and all 2020-2022 Encore
New Genuine OEM Garrett Turbocharger For Chevy Cruze Sonic Trax Buick Encore 1.4L TUR-101467-GTN

Turbochargers Direct Remanufactured OEM Garrett Turbo For Chevy Cruze Sonic Trax Buick Encore 1.4L TUR-101467-TDR

Turbochargers Direct Installation Kit TIK-100018-TDN
Engine Code LE2 – 1.4L Gas
Mitsubishi TD025L4BR
Fits 2016-2019 Cruze, plus 2016-2019 Encore w/ Engine Code LE2
New Genuine OEM Mitsubishi Turbocharger For 2016-2019 Buick Encore & Chevy Cruze 1.4L TUR-100149-MTN

Turbochargers Direct New TD025L4BR Turbocharger TUR-100149-TDN

Turbochargers Direct Installation Kit TIK-100291-TDN

New Factory Turbochargers Replacement Turbo For Chevy Cruze 1.4T & Buick Encore TUR-100149-FTN
If you have a 2016 Chevy Cruze
The Cruze was redesigned for the 2016 model year, but Chevy kept selling the 2011-2015 model alongside it as the "2016 Cruze Limited". GM has done this a few times in the past, usually to sell the older model as a low-priced entry for fleet orders or rental companies. The 2016 Chevy Cruze Limited will use most of the same parts from the 2011-2015 model. If you have a 2016 Cruze, please verify which one you have – you can just do a Google image search of "2016 Chevrolet Cruze" and "2016 Chevrolet Cruze Limited" to see the obvious difference and determine which one you have. This will likely be something to consider any time you order parts online for this car.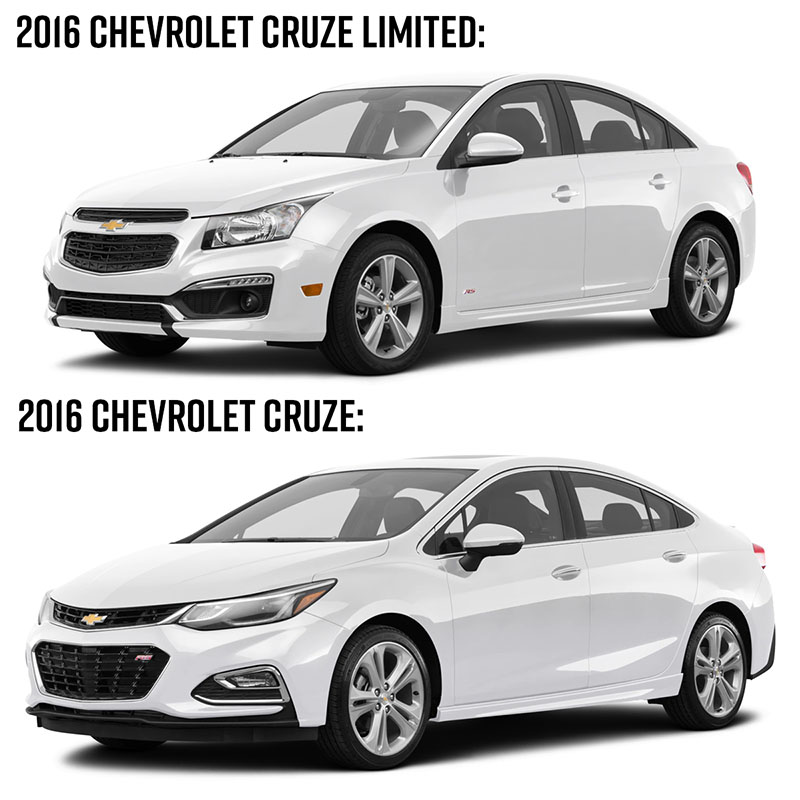 If you have a 2016-2019 Buick Encore
Higher-equipped 2016-2019 Buick Encore models were available with a "High-Output" version of the 1.4L EcoTec. This is the "LE2" engine code from the 2016-2019 Cruze. Lower-spec 2016-2019 models, as well as all 2013-2016 and 2020-2022 models, use the "LUV" engine from the 2011-2015 Cruze and 2016 Cruze Limited. The 2020+ Encore GX is technically a separate model, and it has a 3-cylinder engine that does not use either of these turbos.
Every General Motors vehicle should have an option list printed inside the glovebox. If you have a 2016-2019 Buick Encore, please check that option list and look for the RPO code LE2 or LUV to confirm which one your car has before ordering. You can also check for a part number tag on your original turbo and search those numbers on our website, or contact us for friendly expert support. The LE2 engine option was discontinued after the 2019 model year, and all 2020-2022 models use the LUV.
Engine Code LUZ – 2.0L Diesel
Garrett GTB1549V
Fits 2014-2015 Chevy Cruze Diesel
New Genuine OEM Garrett Turbocharger For 2014 2015 Chevy Cruze 2.0L Diesel TUR-100062-GTN

Turbochargers Direct New GTB1549V Turbocharger TUR-100062-TDN

Turbochargers Direct Installation Kit TIK-100086-TDN
New Factory Turbochargers Replacement Turbo For 2014 2015 Chevy Cruze 2.0L Diesel TUR-100062-FTN
Engine Code LH7 – 1.6L Diesel
General Motors OEM Part Number 55510775
2018-2019 Chevy Equinox, GMC Terrain and 2017-2019 Cruze with the 1.6L Diesel
New Genuine OEM Turbocharger For Chevy Cruze Equinox & GMC Terrain 1.6L Diesel TUR-105639-GEN

For each of these turbos, we also have a complete install kit that includes all the gaskets required for installation. Our install kit for the LUV turbo also includes the oil feed line, in accordance with a General Motors technical service bulletin related to the oiling issue previously mentioned. We always recommend you at least clean out the oil feed and return lines with compressed air and carburetor cleaner, but replacing them is even better. Make sure you prime the center bearing of the turbocharger with oil before installation to make sure the bearing is protected on initial startup, and change the oil, oil filter and air filter during installation to better ensure long-term reliability.
Our comprehensive catalog is the best in the business, and we add new turbos every day. We have brand new or remanufactured options from OEM brands like Garrett, BorgWarner, Mitsubishi, IHI and more. If you have a turbocharged vehicle from GM or any other manufacturer that you cannot find on our site, contact us for knowledgeable assistance in finding the correct replacement turbo for anything that left the factory with one!